Brandon, Highlands Ranch, Colorado, USA – Juin 2016
« I can't imagine a better location in Beaune to stay »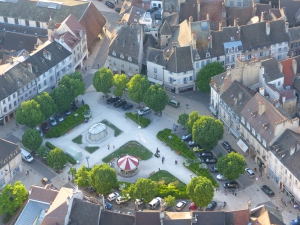 I'm guessing the only reason there aren't more airbnb reviews of this location is because people find there way to this wonderful apartment through other services. The description, in my opinion, undersells the apartment. I can't imagine a better location in Beaune to stay. This apartment opens up directly onto Place Carnot which is a very happening square with a carousel and plenty of wine shops, cafes, restaurants.
I think this is a rare find. It's right in the middle of all of the sites and amenities but it somehow is isolated and very private. There are very few windows from surrounding buildings that can see onto the terrace. I counted only two. And the two that were there were at odd angles for any peeping. It felt very private.
The view from the bedrooms windows (which is not pictured) is perfect. They both look directly at the Hostel Dieu which is lit up at night spectacularly.
The apartment was luminous and very well equipped. It had all of the equipment advertised. The elevator requires a key to get to the apartment and it opens only to the door of the apartment.
Checking in and out was very easy. I called an associate of Angelique when we arrived and she met me at the door within five minutes for a tour of the apartment. Checkout was incredibly easy as well. She just asked that I leave the keys on the table on our way out.
I highly recommend this listing for a stay in Beaune. I'll remember my stay here for the modern design of the apartment, the wonderful terrace, the walks to the Park de la Bouzaize, and the view of the Hostel Dieu lit up at night. Thanks, Angelique and Celine.
Source